How a Bottle of Champagne Served Up New Possibilities
Reading Time:
4
minutes
The world is small until it isn't.
Up until last year, I thought champagne was just ok. As a wine lover, I wanted to appreciate it. However, I just couldn't figure out how. I always felt the bubbles were too big and when you drink it you take in too much gas. Sometimes that would either feel like it would get up into my nose or cause me to have a small burp. None of this was pleasant. Nevertheless, I drank it because it was usually a celebratory moment.
Last year, one of my dearest friends, Reena, introduced me to the champagne products from her company. She shared a little bit of the maker's story and offered to open a bottle of Krug so that I could try it.
At first I said no thanks, citing my feelings about champagne. I didn't want a nice bottle to go to waste. But then she insisted and promised none of that was going to happen with this bottle.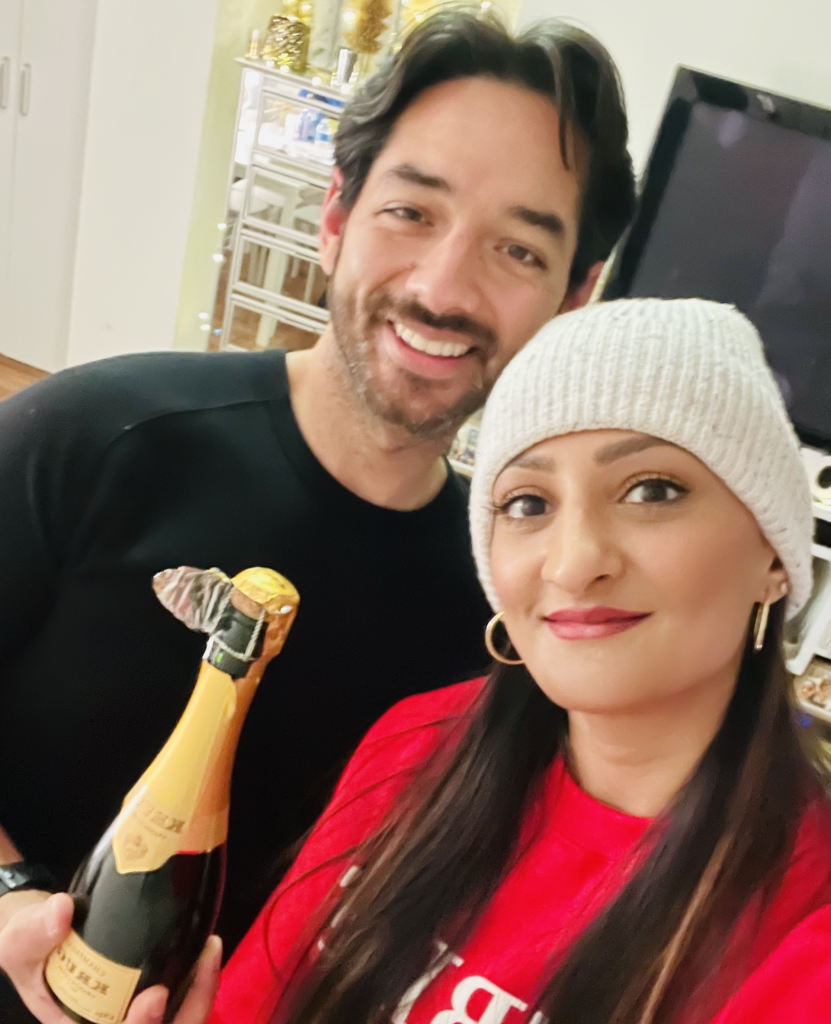 So I said yes and she poured a glass. In that moment, Reena introduced me to the larger world of champagne. What I thought were the limits of the champagne experience, had just been shattered.
The Krug champagne had bubbles so small and fine that you could appreciate the different flavor notes. It felt like I was tasting a great wine. I learned in that moment that there was more to the world of champagne and up until then, I had only seen a small part of it.
I thought I knew everything I needed to know about champagne. But it turns out I was very wrong. Thanks to Reena, my perspective of the champagne world was forever changed.
Reflecting on other times my world expanded…
Math – When my high school math teacher opened my mind to math as a way of thinking and problem solving in life. Until then, I thought it was just a subject you either love or hate.
Art – When my art history professor introduced me to the greater world of art and its appreciation. Since then, I cannot help but look for the art and meaning in even the simplest things.
Environment – When I first left the urban environment I had called home for 18 years and went to rural Pennsylvania for university. Since then I've lived in and traveled to cities all around the world.
Coffee – When my dear friend, Darin, took me to Ritual Coffee in San Francisco. At Ritual, they introduced me to the craft of coffee from farm to roast to prep & pour. Since then, I have met baristas all around the world and learned about their passion for coffee.
Wine – When I first visited Napa Valley and participated in my first wine tasting at Rutherford Hill Winery. Since then wine has become a significant part of my life that has allowed me to meet wine makers from different parts of the world and personally learn from incredible experts like James Suckling.
My World Was So Small
In all of these situations, I was sitting in the dark with a small lamp. I could only see as far as the light and I thought that was as far as there was to go.
Sometimes, someone would take me by the hand and walk me out of my own small light and into their broader and brighter light. Other times, I picked up my lamp and walked into the dark searching for other people's brighter light.
Walking into the Dark Again
Since 2020, I have been focusing on my next reinvention. I want to reach and teach more people by establishing a digital presence and sharing my work digitally. Up until now, my world was mostly speaking and teaching in person.
While this is a pretty amazing world, I want to expand into the digital world. To do this, I searched for the people who have big bright lights shining in the digital world so that I can learn from them. When I step into their space, I get to see what I didn't before. I discover new possibilities I had never imagined before and I learn strategies for pursuing them that I had never known about.
This is easier said than done. However, just like when I tried that Krug champagne, went to my first wine tasting, or tried my first pour over coffee, it's also exciting.
It's also just the beginning. Since that first wine tasting, I have learned more each year about wine and the world continues to grow. Just because I found some new bright lights, doesn't mean I even see it all yet. I look forward to the new experiences and surprises that are in store.
Gratitude for the Guides in My Life
I am grateful for the amazing people who shared their brighter lights with me and showed me just how big the world really was. Those who guided me into the dark and into their light. Thanks to them, my world is broader and more special.
Cheers!
Last night I enjoyed another absolutely amazing bottle of champagne (Pol Roger Reserve Brut) and there's no turning back!