Book Review: How Will You Measure Your Life by Clay Christensen
Reading Time:
5
minutes
Before I go into my reflections on How Will You Measure Your Life by Clayton Christensen. This book is quite special because Clay wrote it during a very difficult moment in this life. Facing significant health issues, including cancer and a stroke, he wrote this powerful book. Writing this book while facing his own mortality must have given him a unique perspective.
In this book, he shares an activity from his teaching days where he used to challenge MBA students to apply business theories and frameworks to their personal lives. Throughout the book, he teaches you a business theories and then applies each of them to our personal lives.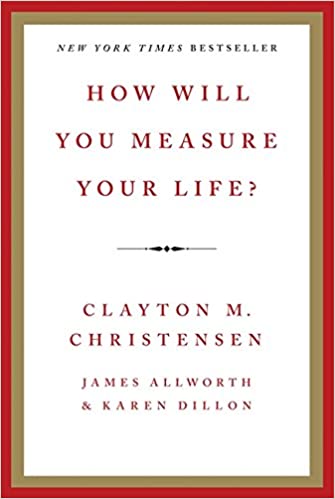 Why Is This Book Important for Reinvention and Entrepreneurship?
This book is important for reinventors and entrepreneurs because it challenges us to think about our big WHY. It is critical that we know what we ultimately want and define it as clearly as possible. The ultimate vision that drives us is likely going to be how we measure our lives and we can design it to be something we will look back on proudly. This book reminds us to start with the end in mind and stay true to our long-term vision, even in the face of challenges and failures.
We are not usually taught about reinvention or entrepreneurship when we are young. In sports these days, young athletes are brought up to play one position really well. In his Masterlcass, Wayne Gretzky shares that his father believed great players must spend time in every position. This flexibility and ability to reinvent and test new methods, just like entrepreneurs do, contributed significantly to his success.
The Moment I Needed This Book
When I started reinventing myself professionally, I spent a great deal of time working with students as a math tutor. Eventually I spent several years as a middle and high school math teacher. A significant conflict I had was that I wasn't making much money nor "moving up" in status. Unfortunately, because of the way teachers are treated in the US, it felt like I had taken a step down.
Nevertheless, I was happy doing this work. The work was profoundly rewarding and nothing felt better than unlocking confidence and potential in a young person. Usually, I was happy, however, when I "aggregated" my finances and status, I was not moving up in the world. These limiting beliefs kept me from feeling that I was truly successful.
What Mihalyi Czisecmilhayi Has to Say About Happiness and Success
In the book Flow, psychologist Mihaly Csikszentmihalyi found that as income goes up, happiness tends to remain the same. According to Csikszentmihalyi, while challenges due to poverty can negatively impact happiness, the rewards of higher income do not positively impact happiness. Thus, if we can overcome the negative impacts of lower income, we can unlock the same level of happiness enjoyed by people with significantly more income. As Mihaly suggests, this finding was not intuitive and surprised him. I did not imagine this given the limiting belief I had that happiness was tied to income and status.
Why Is It Hard to Believe That Higher Income and Status Do Not Impact Happiness?
According to Carol Dweck, in her book Mindset, she writes about the Tyranny of Now – a focus on avoiding failure now. She explains how, from a young age, we are trained to focus on short-term results. Children are rewarded if they get an A in their next report card and executives are given bonuses if they hit quarterly targets. Her research suggests this fixed mindset wiring will make it difficult to knowingly engage in what will surely be a short term failure. For example: taking career risks, pursuing happiness today, etc.).
In my case, working as a math tutor and teacher, on some level, felt like a step backwards from my former business career. While I did take action focused on my long-term measure of success, I still faced significant internal conflict. For me, the Tyranny of Now kept me in conflict between happiness and society's definition of success. While I was enjoying my work, I was also concerned that I was failing to accumulate wealth and status in the short term. I may have been happy while working with my students but I faced difficult moments by myself, when working through these conflicting thoughts. These were thoughts that I didn't share with anyone, not even my significant other at the time.
How Did Clayton Christensen's Book Help Me Then?
Clay's ideas gave me permission to discard these limiting beliefs and replace them with empowering beliefs about the work I was doing. This allowed me to shift my focus to the work that will matter more to me in the future when I measure my own life.
Furthermore, this book inspired me to find innovative ways to earn a great living while impacting people positively. I have been in this pursuit for many years now and every year I get a little closer.
Regardless of where I am on the journey, everyday I have the opportunity to enjoy success that matters most to me. Clay Christensen passed away early in 2020. I will forever be thankful to him for empowering me to measure life on my terms. As a result, I can continue reinventing myself in pursuit of my own brand of happiness.
Below is a Ted Talk by Clay Christensen on some of the key ideas in the book. Not mentioned is that the year before, he suffered a stroke and had to relearn how to speak. Nevertheless, he wanted to share his insights and courageously did so on camera in front of a live audience. Thank you, Clay and may you rest in peace.